BOYFRIEND | GIRLFRIEND ZINE: SUBMISSION CALL
---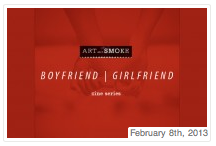 We are currently accepting submissions for #BOYFRIEND | GIRLFRIEND – a series of three analogue zines about the adventures, highlights and misfortunes of life and love between two people. The 2nd in the series will be GIRLFRIEND | GIRLFRIEND, finishing with BOYFRIEND | BOYFRIEND. The titles are pretty explanatory.
BRIEF
For the first in the series, we're looking for analogue / film / instant / polaroid images, with a loose theme based around boyfriends and girlfriends. We will also accept love letters and 'it's not you, it's me' dumping letters.
GUIDELINES
Only analogue produced images will be considered, and they can be either b/w or colour or a mixture. Photographers and friends are invited to shoot couples they know, or couples can take pictures of each other separately or together. They can be anything from riding a bike, eating pizza to taking out the trash –  it really doesn't matter. Those small moments can often share interesting stories. Nudity is allowed with few restrictions but please note we are not looking for anything too contrived – please keep it authentic.
Please send your submissions to:
submit@artandsmoke.com
and include in the subject line "BOYFRIEND GIRLFRIEND"
We are happy to publish a single image per submission, up to six, and will consider more if they are better represented in series. If you prefer to send a larger selection for us to choose from, we are happy to do so.
#BOYFRIEND | GIRLFRIEND
deadline: 15th April 2013 – SUBMISSIONS CLOSED (a new submission call for a 2nd edition will be announced soon)
release date: 14th May, 2013
58 pages
perfect-bound
full colour
£12.00

Published by Art and Smoke
---